Weekly Market Report – September 17, 2021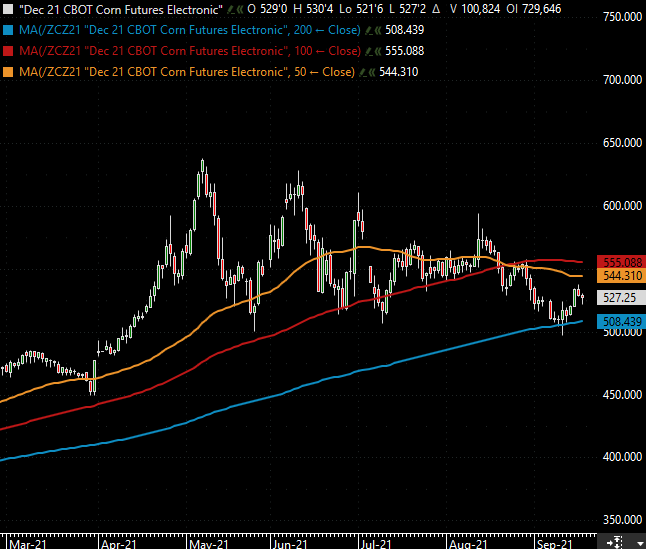 Commentary on the grain market
Friday, September 17, 2021
by Harrison Reiff, Associate Dealer, The Andersons
September corn opened the trading week on Monday at 5.1750 and started trading lower, ending at 5.1325 that day. SX21 futures opened the week at 12.9000 and closed down 5.25 cents to end at 12.8475. Crop condition scores showed that corn lost a 1% G / E rating to 58% G / E and soybeans stayed the same at 57%.
Corn began to rebound slightly on Tuesday as reports of low test weights and tar spots began to scare the market. Corn opened the day at 5.14 and closed up 6.25 cents at 5.2025. Soybean trade showed soybeans were attempting to recover to 12.9750, but then traded lower to close the day down 3.25 cents on the day.
The market continued to rise on Wednesday, following Tuesday's action as more traders heard of the low test weights and balance sheets reconfigured, December corn futures rising 13.25 cents to end the day at 5.3350. Soy followed corn on the rally and ended the day 11 cents higher to close at 12.9450.
Corn edged down 4 cents on Thursday to end the trading session at 5.2950. Soybean trade closed half a cent since the opening to end at 12.9600. Export sales remain a problem with sales of around 46.5 million bushes, almost half of last year's total, preventing corn and soybean markets from recovering too strongly.
December corn trade fell 3 cents from Thursday's end on Friday to close the week at 5.2725. Soybeans ended the week with SX21 futures closing 11.5 cents lower to end the week at 12.8400.
---
December corn Futures opened the week at 5.1750 and closed the week at 5.2725, gaining 9.75 cents on the week.
---
November soybeans opened the week at 12.90 and ended the week at 12.84 losing 6 cents on the week.
---
December wheat opened the week at 6.90 and closed the week at 7.0875, gaining 18.75 cents on the week.