Training makes perfect as Zhou enjoys 'incredible' F1 debut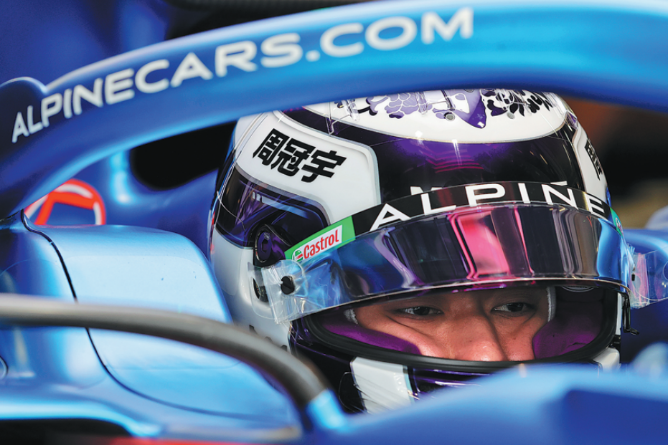 Finishing ahead of former world champion Sebastian Vettel, Zhou Guanyu had every reason to call his official Formula 1 debut "incredible" at the Austrian Grand Prix this weekend.
Driving in place of another F1 greats Fernando Alonso, 22-year-old Zhou clocked an impressive time of 1 minute 06.414 seconds, mostly on medium tires, to finish 14th in Friday's first free practice on the Spielberg Red Bull Ring.
It was less than half a second behind his Alpine teammate Esteban Ocon, who was using faster softer tires. Zhou's accomplished driving proves once again that his dream of becoming China's first F1 driver is increasingly within reach.
"It was amazing," Zhou told Formula1.com of his debut. "I'm really grateful for this opportunity – the team who believed in me getting into Fernando's car. I had to deal with it, but I was also pushing as much as possible to show my full potential.
"I used my first set of tires to pick up the pace, and from the second set I was able to explore as much as I wanted."
"It wasn't a perfect lap. I blocked in a few parts, but in the end I'm happy with the lap time," added Zhou, who is Alpine's reserve rider and was one of the nine riders from the first session to have experience in Formula 2.
Red Bull championship leader Max Verstappen topped the timesheet (1: 05.143), with reigning world champion Lewis Hamilton seventh (1: 05.709) in his Mercedes.
"I did all the laps with Esteban and I think we were actually quite similar. Less than two tenths with the same compound tires.
"I'm happy with how it went and I have definitely proven myself here, but there is still a lot of work to be done in the background and to keep improving in the future.
"At the end of the day we were actually pretty quick on the medium tires and the team were really happy with the job we did. We did a lot rather than just focusing on the lap time. We were mainly focused on the lap time. getting the new setup changed to help the team.
"And the lap time was also there, so that's another thing to worry about less. Now we're really focused on the future and what more I can bring to the team."
Zhou became the second mainland Chinese driver to take part in an official F1 session after Ma Qinghua, who made five tests for Caterham and HRT. Hong Kong racer Adderly Fong Cheun-yue also drove practice sessions at the 2014 Abu Dhabi Grand Prix for Sauber.
Zhou's career could hardly progress much better at the moment. He proudly sits atop the F2 driver standings with 78 points after starting his third season in the championship with a race victory in Bahrain in March. In May in Monte-Carlo, he continued this fine form with a sprint triumph on the iconic Monaco urban circuit.
As a rule, however, he keeps his feet on the ground and remains well aware of the difficulty of achieving his F1 dream.
"It was special to drive FP1 (Free Practice 1) today. I'm really happy with all of my runs and got to familiarize myself with the tires from the start," said Zhou.
"I didn't expect to be this fast and the pace was definitely there on the mids. I was feeling great this morning, and I was getting more confident with each lap. I just wanted to build it steadily and grow in the session.
"I want to thank the team for this opportunity, it was definitely very special. I hope I made everyone proud and that there will be more moments like this later in my career . "
It certainly looks like this after Zhou received a resounding boost from his team.
"We had a productive day and Friday was different from usual. First, we had Zhou in the car this morning. He did a really good job, didn't make any mistakes and had lap times. competitive. " said Davide Brivio, Alpine Race Director.
"He can be happy with his performance and his work, and we're very happy for him. We also tested the prototype tire in both sessions for the next race, which was good.