The new baby Skoda Enyaq will showcase the brand's future design language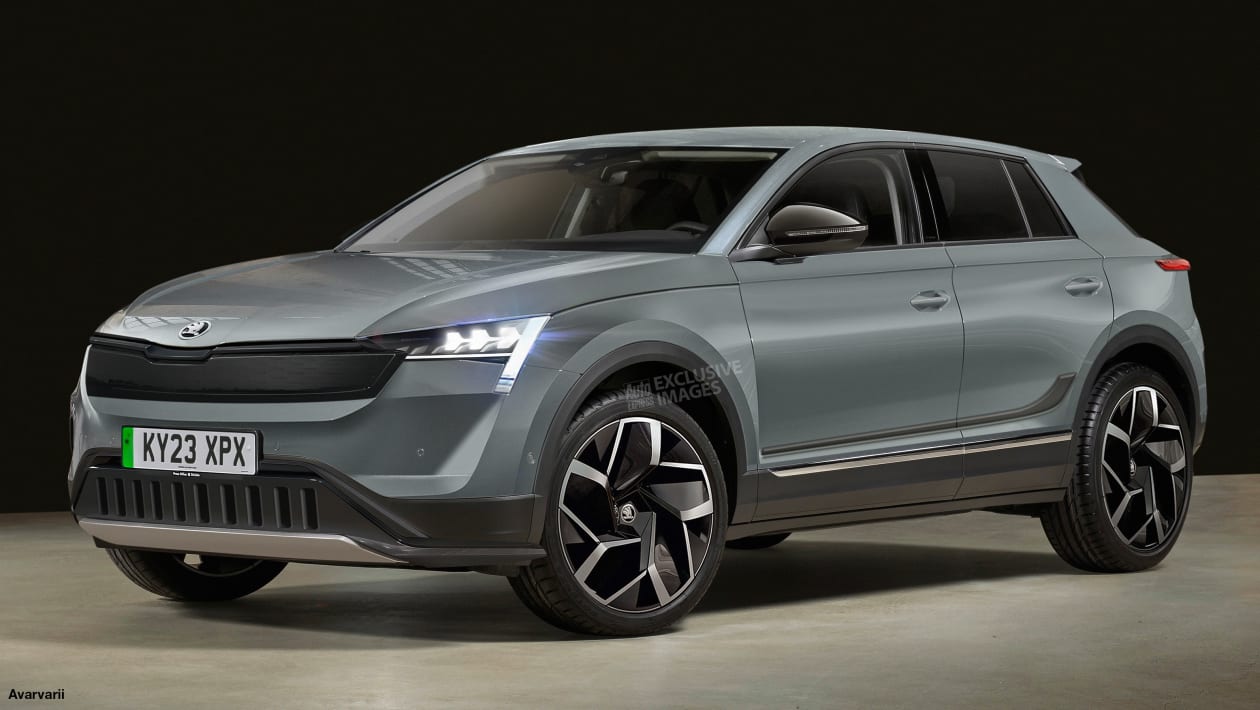 Skoda will introduce a new design language for its vehicles this fall – and it gave a glimpse of how the look could apply to an electric SUV.
At the Czech brand's annual press conference, outgoing CEO Thomas Schäfer reported on a difficult second half of 2021, as the global semiconductor crisis hit Skoda manufacturing. But the company still reported an improved sales margin of 6.1% and made more than €1 billion in profit, up from €756 million in 2020.
Schäfer revealed that Skoda was aiming to continue modernizing its brand in 2022, and said a new design language – labeled "Modern Solid" – would be at its heart. "You'll see a 'wow' moment for our competitors and our customers," he said.
The speech was accompanied by a slide showing a mostly blurred image of an SUV – but with the front area of ​​the car left in focus, revealing that it has a flush grille typical of an electric vehicle. It's likely that the affected model is a concept designed to preview the new design language, but the Czech company also has a habit of not releasing any show cars that don't closely represent final production models.
It's hard to judge the scale of the vehicle in the teaser, but our exclusive image interprets elements such as wheel size and wheelbase to show a vehicle measuring approximately 4.5 meters in length – shorter than the vehicle Skoda's current electric, the Enyaq, but longer than VW's. ID.3 hatchback.
Schäfer reiterated during his conference remarks that his team already has "three smaller electric vehicles than Enyaq" lined up – although at least one of them is considered a much smaller car, based on the cheaper MEB Entry platform and unlikely to appear before 2025 or even 2026.
He said the launch of the new language – presumably based on the car in the teaser image – is slated for September, and acknowledged to Auto Express that the new approach is geared towards electric vehicles. "We're going to bring it first with electric vehicles," he said. "That will be the goal. We could then gradually integrate it into other vehicles, but in the second half of the decade, not much is coming to the ICE. [combustion-engined] side anyway.
Schäfer also revealed that the next generation of Skoda's Kodiaq SUV, due in 2024, could be in line for a plug-in hybrid powertrain, although he ruled out the prospect last year. "We keep watching it," he acknowledged. "The outlook in the EU really doesn't help, as plug-in hybrids won't be supported in the future. It's a huge cost to get it to the vehicle if there's no market for it then.
He added: "The technology is available in the group, and the platform is available. We just had the Kodiaq facelifted last year, so we'd still have time to decide if we're going on the next car.
need to sell your car?
Find your best deal from over 4,000 stockists and sell up to £1,000 more. It's so easy.
Note 'Excellent'
Trustpilot
Click here for our list of the best electric SUVs on sale right now…