The Batman Review: Ambitious Dark Knight Detective Story Loses Its Way In The Shadows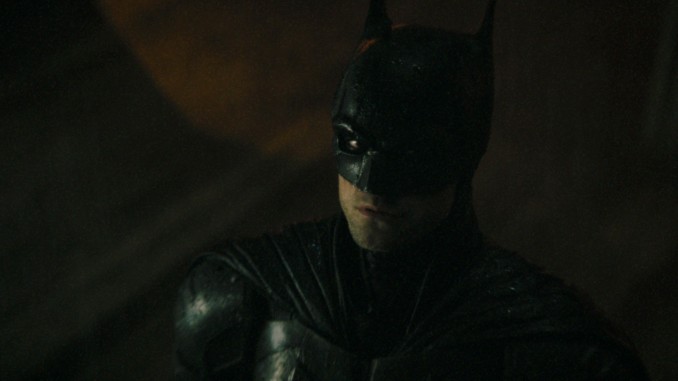 The evolution of Batman's presence on the black screen has finally reached the point where he's able to completely blend into the shadows. Tim Burton's take on Batman was brooding, fetishistic, and deeply bizarre. Christopher Nolan's was brutal, technical and paranoid. Zack Snyder's was eroded, unfaithful and cruel. And now Matt Reeves The Batman is austere and wounded, the newly hooded hero's teenage attempts at heroism undermined by sullen stubbornness. It's not an action figure yet, but not quite a human. It's in over its head, stuck in a nearly three-hour detective story that overstates both realism and style – a film with plenty of great ideas for how it could tell a Batman story, but who puts them together in a way that leaves you wondering how he got those scars. His Batman almost dissolves into the night, overwhelmed by and acquiescing to his film's own dark ambitions.

The BatmanThe crime story of – from mob bosses like Carmine Falcone (John Turturro), rogue cops and serial killers – finds its tone somewhere between "Ave Maria" and "Something in the Way", powered by a Michael Giacchino's theme as slow and hard-hitting as the heavy, metallic footsteps of Robert Pattinson's awkward and inevitable advance. His Bruce Wayne is called Revenge, a big headline for a guy in his second year of crime fighting. But a corner of Gotham already knows him. When we discover the film, in the best sequence of the film, the reputation of Batman hides in every shadow. We are brought to understand what will end up defining the character: Batman is your own guilty fear, returned to you by the void. Cinematographer Greig Fraser injects that Nietzschean feeling with plenty of ambiance, as reds of flares and oranges of headlights penetrate this endless Gotham night. It's deadly serious and seriously gothic. Like, "all-black motorbikes driving through a damp graveyard after a balcony argument" gothic. It is always night. It always rains.
Murders seem inevitable in this damp gloom. When The Riddler (Paul Dano) claims the life of one of the town's leading players, the police swarm and Batman – deemed more of a cosplay nuisance than an asset by all but Jeffery Wright's Jim Gordon, the cop by above all other cops – tag along. It's for the best, as The Riddler has his eyes on the bat, dropping tantalizing numbers that Gotham City PD are too dull or corrupt to decipher. There would be a little Zodiac here if only for the similarities between the killers and the length of time it all takes place, but the puzzles are too cute and comical to inspire fear and any obsession with problem solving continues to be uprooted by the endless detours half-bound from the movie .
As Batman and Gordon ostensibly rush to save the city's top brass from getting their heads smashed by a small, overly-patterned creep (gory words rise against the high-ranking liars he smothers), the strangely rhythmic structure of The Batman and its sinuous blackish detours undermine the tension of mystery without the colorful vices provided by the alleyways and speakeasy of its inspirations. Rather, we find more of the same in this character's world: empty symbols, familiar scenes, and basic roles. A long-suffering, grizzled Alfred Pennyworth (Andy Serkis) here and a seductively seductive Catwoman (Zoë Kravitz) there. A cigar-less, soulful penguin is almost having fun, but then you realize Colin Farrell only acts as big as him because that's what it takes to get through his ridiculousness – into a "Why didn't- didn't they just choose someone who looks like that?" way and not a "Danny DeVito, what did they do to you?" way—prostheses. All are embroiled in the rot of Gotham, all doing what they always do. All with a bit more of that gritty realism that everyone seems to want from their superhero movies.
Kravitz is by far the film's best supporting element, as the talented performer nails the brooding, spiky cadence that turns Batman's gruff stoicism into seductive punchlines – complemented by a lithe, tantalizing physique possessed by both feline and type. working dependent on the tip that got her wrapped up in this case. Yes The Batman cut back on some of its sequel setup and endless detours rehashing – once again – the death of Bruce's cursed parents, there would have been room for a deeply satisfying Bat-Cat dance. Like much of the film, the groundwork and ability is clearly there, but there's so much to do and see as Reeves takes us on a trawling tour through his Gotham that there is little lucky to appreciate what feels good.
But some things do. While The Batman shot some of his Gotham in Chicago like The black Knight, his city is not centered on urban architecture, but on anti-architecture. Illuminated emptiness, negative L-stop spaces, isolated car parks, disorienting scaffolding, liminal underground passages. Reeves' production has a satisfying base in his design: a scrap Bat-Signal, a Riddler in an army-surplus mask and parka, a DIY leather Batman, and a flimsy wingsuit. The latter's car is a hot-blooded Charger; its villains don't get any more fantastic than Uzis. Yet the character who goes through all of this is never as grounded or physical as his surroundings.
The action, especially a car chase in the middle of a movie, is often intentionally filmed in such choppy darkness that it becomes indecipherable. Batman's fights, chases, superheroes feel disconnected from the sad, sagging alter-ego with oily bangs hanging down his eyes. Realism stops where it counts. We should feel protective of this misguided but well-meaning crackpot, but his physical vulnerability is too deeply tied to the needs of the plot. He walks away from a fit of ridiculous violence and we wonder how. He is apparently injured and we wonder why. The answer to both is that, ultimately and despite the film's gender suit, Batman wins.
This concept seems a bit strange for this particular version of the character. Pattinson is asked to do very little on the surface, as taciturn and tattooed as any Bruce Wayne we've ever had. It's brittle and dry like tinder, which can be new and frustrating at times when it's in detective mode. He's not as frustrated as you might expect with The Riddler's goofy puzzles, which lead to equally goofy lines of dialogue, and he's not particularly shrewd as a detective. What he and Reeves capture well is his youthful stubbornness. It turns ever further, a freight train shoveling childhood trauma into the furnace.
What he faces is just as sticky. His enemy carries America's current fears, much like Nolan's Batman operated in a world plagued by high-level terrorism. The Batman engages at a distance with the violent and catastrophic connection between a hyper-militarized country and isolated and hateful members of the online alt-right – all wrapped up in an era of internet sleuths, social media celebrities and an ever-increasing distance from reality that leads to events like insurrection. It may seem a little easy, but never really dishonest; The Riddler has a silly name, but so does the Boogaloo Bois. These intriguing ideas take the "we're not that different you and me" to the extreme, but the performances (especially from Dano, whose childlike, floating cadence feels more sleepy than scary) and character writing don't. just don't stack up. Grandiose speeches and ineffable concepts – judgment day, injustice, dishonesty – accompany comic book territory, but they're just not scary, interesting, or in the least bit original, which a story like this one needs when working with such familiar characters. implements.
In his review of Return of Batman, Roger Ebert wrote, "No matter how hard you try, superheroes and film noir don't go together; the very essence of black is that there are no more heroes. Reeves' The Batman doesn't quite prove him wrong. Pull out The Long Halloween and Year zero among other comedic influences, this effort sets the stage for a dark world where low-level crooks develop colorful personas as they are pushed to more arrogant extremes. It also gives us a Batman whose heroism is never in question. Other issues certainly linger – pacing and tracking – but therein lies its central friction. The Batman is ambitious and dedicated to his vision, but despite some rather obvious clues, he can't figure out how to make the world's greatest detective one. Instead, we've just got another passable Batman, not different enough to outgrow the ever-growing shadow of his legacy.

Director: Matt Reeves
Writers: Matt Reeves Peter Craig
Stars: Robert Pattinson, Zoë Kravitz, Paul Dano, Jeffrey Wright, John Turturro, Peter Sarsgaard, Jayme Lawson, Andy Serkis, Colin Farrell
Release date: March 4, 2022
---

Jacob Oller is a film editor at Paste Magazine. You can follow him on Twitter at @jacoboller.
For all the latest movie news, reviews, listings and features, follow @PasteMovies.