Southeast Super Trucks to hit Kingsport on Saturday | Sports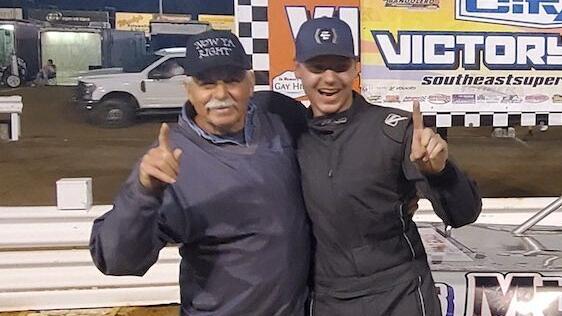 Kingsport Speedway will have races on Saturday instead of Friday this week with the return of the Southeast Super Trucks series.
Trucks are the main division alongside the Limited Late Models, Legends, Bandolero, and Carolina Vintage classes.
Clark Houston, the grandson of NASCAR Busch Series legend Tommy Houston, won the final Super Trucks race on May 8 at Tri-County Speedway in Hudson, North Carolina. Ashton Higgins, who competed in the NASCAR Weekly Series earlier this season at Kingsport, finished second in that race.
Houston also won the Super Trucks when it visited Lonesome Pine Raceway in Coeburn last September.
Practice and qualifying precede the race, which is scheduled for 7:30 pm The NASCAR Weekly Series is scheduled to return to Kingsport on Friday June 25th.
With three wins in the first eight races, 2019 track champion Nik Williams leads the NASCAR Weekly Late Model Stock division with 232-224 points ahead of second-placed Brad Housewright. Wayne Hale, who won the first of the 35-lap twin races in Kingsport's final race, is third at 215, followed by Derek Lane (211) and Jonathan Worley (198).
Rusty Clendenin holds a 13 point lead over Austin Brooks in the Sportsman standings with Chris Tunnell two points off third place. Keith Helton has a 193-190 lead over Bucky Smith in the still competitive Pure 4 Division; Josh Detwiler is third with 187 points.
Kevin Canter, who won all five Mod 4 races, leads Chris Amburgey 155-141, followed by Billy Duty (131). The Pure Street standings are tied between Billy Walters and Rob Austin, who are tied with 172 points. Tony Dockery (171 points) and Jay Swecker (172) are just behind the leaders.
ACTION ON LAND TRACK
Volunteer Speedway has another weekly racing schedule scheduled for Saturday night. Rusty Ballenger of Sevierville won the Crate Late Model on Saturday night on the four tenths of a mile dirt track
Jensen Ford of Johnson City, usually a top contender in Crate cars, is doing more Super Late Model races this season. Two weeks ago he won at Wartburg Speedway and leads the Valvoline Iron-Man Dirt Late Model Series with 299-168 points over second-placed Cory Hedgecock.
Ford took part in the week-long Dream Late Model event at Eldora, Ohio Speedway last week, registering a best sixth place finish in Group B on Friday, with $ 10,000 up for grabs.
Georgian runner Brandon Overton was the big winner, picking up featured wins worth $ 127,000 on Thursday and $ 126,000 for Saturday's lineup of the Dream 2020 race. He also won a feature pair at $ 10,000, bringing the total to $ 273,000 for the week.
Kyle Larson, winner of the last two NASCAR Cup Series points races and the All-Star race, was 13th in Thursday's A-Main. He was fifth in Group A on Friday, one spot behind Hawkins County racing legend Scott Bloomquist, and sixth in Saturday's A-Main.
Ford is expected to be back with the Iron-Man series on Saturday with a $ 5,000 race at Smoky Mountain Speedway in Maryville.
WARM SUPERCROSS SUMMER NIGHTS
Roan Mountain's Cody Lyons claimed victory in the 25+ category at the Hot Summer Nights Supercross Series race last Saturday in Travelers Rest, SC. Riding a KTM, he beat South Carolina rider Jimmy Royal.
Jonesborough's Noah Roy did not finish in the top two on Saturday but now holds the points lead in two separate categories after a productive day.
Anthony Fields of Bluff City also runs two classes. Other point leaders include Brandon Hughes of Roan Mountain, Chandler Carver of Jonesborough, Tianna Holsclaw of Johnson City and Hans Neel of Piney Flats.
The Hot Summer Nights series is taking a week off before resuming June 25-26 at Cathey's Creek MX in Rutherfordton, NC.
DRAGÉE RACES SCHEDULE
Cherokee Race Park in Rogersville has another night of IHRA Summit SuperSeries points races scheduled for Saturday.
The DER Bracket Series returns to Bristol Dragway on June 25-26.