Round Up: EWS & World Cup Racing Wet Weather Setup Tips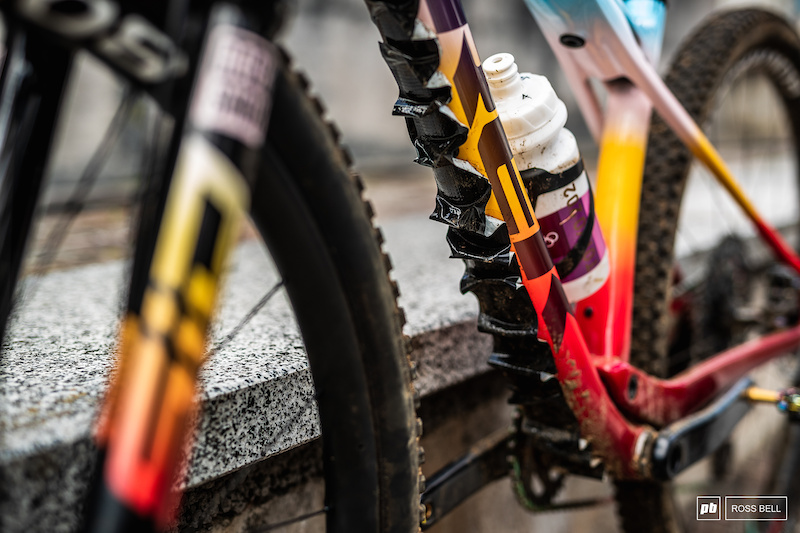 Every rider has their own set-up and when it comes to difficult weather conditions, everyone has their own solution to the problem. We decided to browse the Pinkbike bike check archive for the wetter weather setups we've spotted in World Cup and EWS races over the years.
---
Probably one of the most talked about wet weather setups in recent years has been the use of duct tape on the down tube at the Olympics and some XC World Cup races. Jolanda Neff has her Olympic gold medalist bike fitted with a wavy ribbon, the idea is to make it more difficult for the mud to grip the frame. If the mud ends up getting stuck, you can easily remove the tape to clean the bike halfway.
---
The classic wet weather setup should be a front fender. It does a great job of keeping mud and debris away from the down tube and, depending on the size, can help keep your vision clear. While most races tend to use shorter wings when the conditions get really bad, we see some riders going for large setups.
Although rarer, some riders use a rear fender, it is most likely mounted on the frame to keep the mud away from the rear suspension.
However, a mudguard is not always the best solution for runners, we saw many runners ditch the mudguard during the mud infested Leogang World Championships 2020. In this race, the mud ended up being so sticky it blocked the wings, making it more of a hindrance than an advantage.
---
---
---
After the insanely wet and wild 2020 EWS race in Zermatt, Joe Barnes shared some creative tips for tackling the conditions. Joe's clever creations include hand guards modified to eliminate wind chill, heated grips for grilled hands and more.
---
While they're not always used in wet weather, many runners add a small piece of duct tape to their levers to add extra control and grip. The last thing you want is to slide your brake levers during a wet and muddy run.
---
Choosing tires for muddy races is not always about maximum grip. At this year's XC World Cup in Nove Mesto, BMC was trying to decide between using a tire that rolls faster or a tire that can clear mud faster. For the BMC team, they were weighing on the decision between a Vittoria Mezcal which would roll faster and could release mud on the paved sections or the Peyote which would clear the mud faster on most sections of the course for more grip. when runners need this.
---
---
---
---