Porsche to produce 718 all-electric by 2025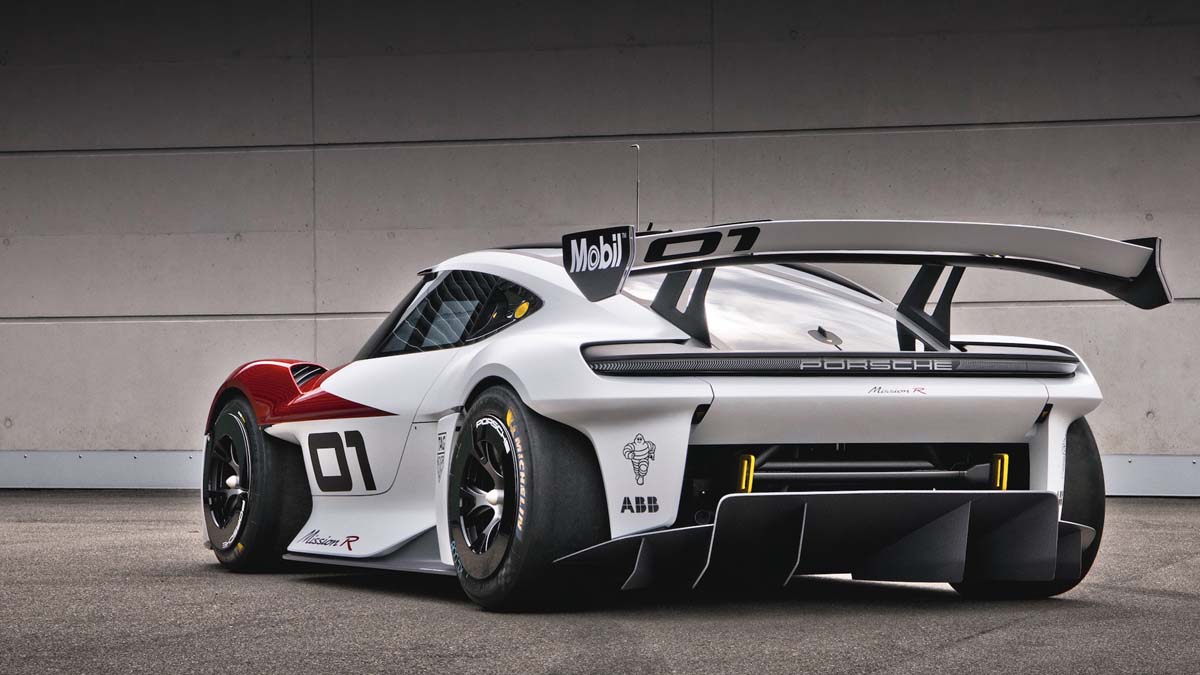 After yesterday's news about the new Lotus EV architecture that will bring us a full range of sports cars, Porsche was quick to reveal the word about the electric 718. Today we learned that the new 718 will come in its roofless and coupe form, breathing new life into influential names like the Boxster and Cayman.
So what do we know about the new all-electric Porsche 718?

Porsche gave us our first glimpse of the new 718 at the IAA Munich auto show when the company unveiled the Mission R Concept car. Its striking design, accentuated by massive aerodynamic features such as a large opening in the front and a gigantic rear spoiler, offered us a portal to the future. If you can imagine the Mission R concept without the huge spoilers and other race car features, you can probably understand what the new Porsche 718 will look like.
Porsche has never presented detailed information about its architecture or the power of its electric motors. CarandDriver reporters, however, dug a bit and found that the new electric 718 is expected to come in several different forms:
– Single-engine RWD 718 Cayman (and Boxster)
– Dual engine AWD configuration for a high performance version of the Cayman and Boxster and,
– Racing car based on the Mission R Concept vision
Granted, that doesn't say much, but the Mission R concept revealed earlier this month does. This has an 80 kW battery, two electric motors – one at the front with 429 horsepower and one for the rear axle with 644 horsepower. Yeah, we've done the math before, and it's crazy. The Mission R has a maximum power of 1073 horsepower.
Now, while the Mission R concept shoots above anything similar in size to the 718, mass production cars will deliver a different kind of performance. Forget the huge numbers – not just because these motors could drain batteries quickly (Mission R Concept's batteries can last 30-40 minutes at full power on a race track), but because we have something called 911. No 718, electric or other. , can always be faster or faster compared to him. In the meantime, I can tell you that the 911 will keep ICE propulsion at least until 2030. That means an entry-level electric 718 could sharpen a single electric motor that does not put out more than 350 horsepower.
As I scoured the endless swathes of the internet, I discovered that Porsche was aiming to create a lightweight electric car that tips the scales at 3,650 pounds. The Mission R, for example, has an empty weight of around 3,300 pounds. It's a lofty goal, but I'm not sure how they plan to achieve it, given that Porsche is aiming to achieve a level of range of 250 miles on a single charge for the future 718.
Conclusion

With the Lotus, the Alpine and the Tesla all going to be equipped with an electric car within a few years, I can only understand that Porsche wants to offer the best possible deal. The new 718 should have Rimac technology and will benefit from the Volkswagen charging network which is developing day by day in Europe. However, we still have a few years to take advantage of the 718 gasoline cars. After all, it's all about the electricity.
Safet Satara is an automotive journalist and car enthusiast who has fueled his automotive endeavors since the age of 19. He specializes in European cars, electric vehicle technology and research into problems in the automotive industry. Safet has also written automotive articles for Gearheads.org, Topspeed.com, Autowise.com and various print magazines including ProAuto. His specialty – test cars – more than 500 cars tested to his credit. You can follow Safet on Facebook, Instagram and Twitter.