Jaguar Vision GT Roadster joins virtual siblings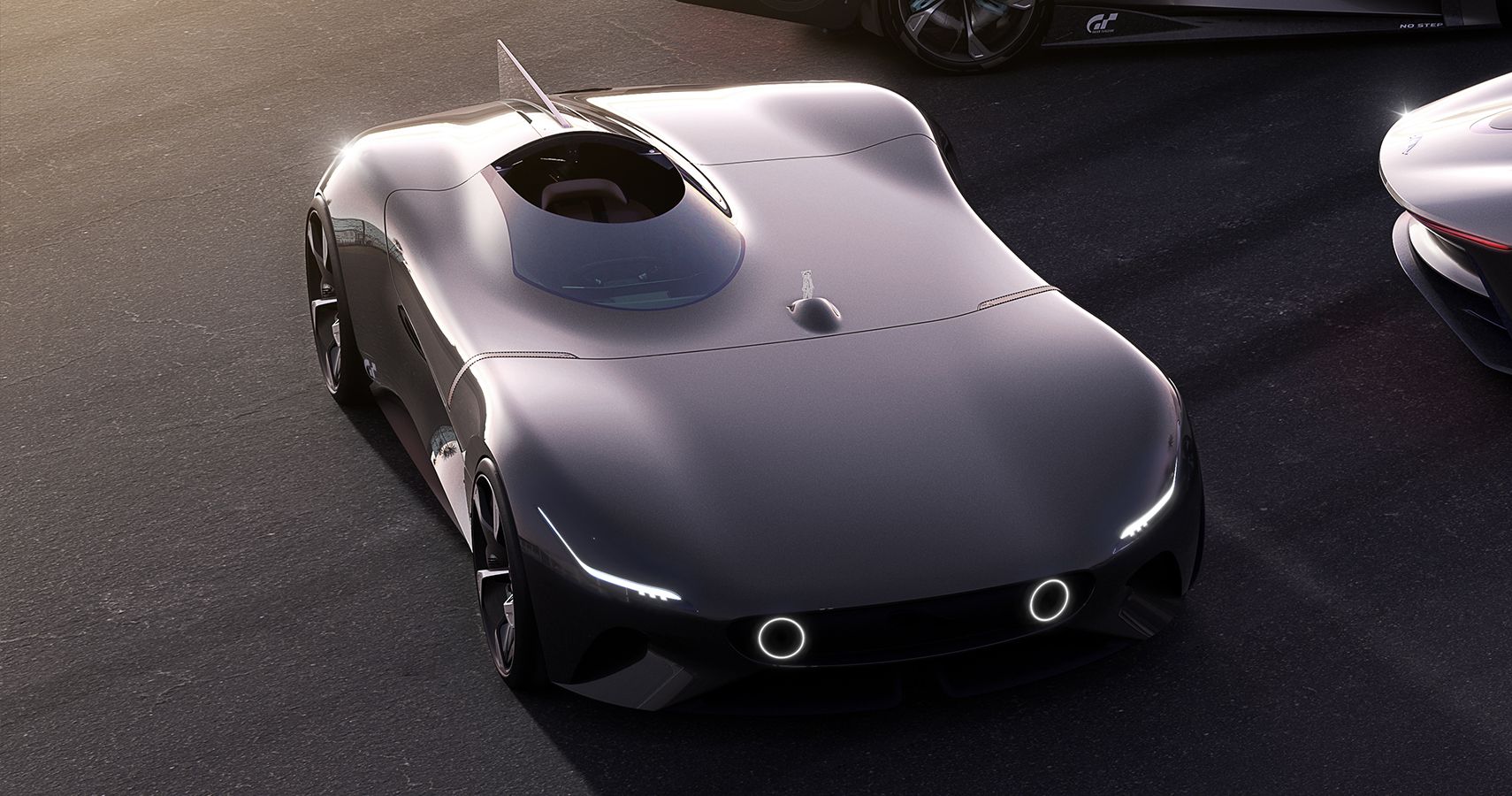 Polyphony Digital and Sony Interactive Entertainment have finally announced the release of Gran Turismo 7 on PlayStation 5 and PlayStation 4. Just like in previous versions of Gran Turismo, Jaguar puts a new all-electric virtual race car into action in the latest iteration of the world-renowned racing game. This time, Jaguar is betting on an open-top racing car: the Jaguar Vision Gran Turismo Roadster.
The Vision GT Roadster is a fully electric single-seater
The Jaguar Vision Gran Turismo Roadster is the latest of three virtual Vision GT hypercars that players can drive in the world of Gran Turismo. The first virtual hypercar arrived in 2019 as the Vision Gran Turismo Coupé, while the second followed in 2020 as the endurance racer Vision Gran Turismo SV.
RELATED: 10 Cars We Can't Wait To Drive In Gran Turismo 7
As designed, the Vision GT Roadster is an all-electric single-seater that builds on the surfaces, lines and proportions of the first two Vision GT cars. But instead of a deployable canopy, the Vision GT Roadster has an open cockpit with an aerodynamic screen behind protecting the driver. Its sculpted shape is inspired by the Jaguar D-type.
Right behind the driver is a modern interpretation of the wing of the three-time Le Mans-winning Jaguar D-type. Using the Jaguar monogram pattern, the spoiler features an engraved and LED-illuminated Union Jack. The Roadster also has leather straps on the front fenders and round headlights up front.
Powerful electric powertrain with 1,005 hp of power
At the heart of the Jaguar Vision GT Roadster is the race-proven powertrain of the Vision GT Coupe. Developed from Jaguar Racing's experience in Formula E, this powertrain uses three lightweight, powerful and compact electric motors – one on the front axle and two on the rear.
RELATED: Toyota and PlayStation Team Up for GR Sport Yaris Gran Turismo 7 Edition
Powered by a state-of-the-art lithium-ion battery located at the bottom, these powerful motors could deliver a maximum power of 1,005 hp and an instant peak torque of 885 lb-ft. With this setup, the Vision GT Roadster can zoom from zero to 60 mph in under seconds and reach a top speed of over 200 mph. The Vision GT Roadster features a rigid monocoque body made from carbon fiber composites and advanced aluminum alloys.
All Jaguar Vision GT cars available in GT7
All three Vision GT cars are now available in GT7. To celebrate these three releases, Jaguar's design team has created new bespoke liveries for these three hypercars, featuring specially developed black and gray paint finishes and subtle graphics.
Unfortunately, these liveries are not available in GT7though players can recreate them through the Livery Editor feature.
Source: Jaguar
The elegant Jaguar Vision GT SV is a virtual racing car developed for Gran Turismo
Read more
About the Author