Here's What Happens When You Drop 2,800 HP Into An Old School Chevy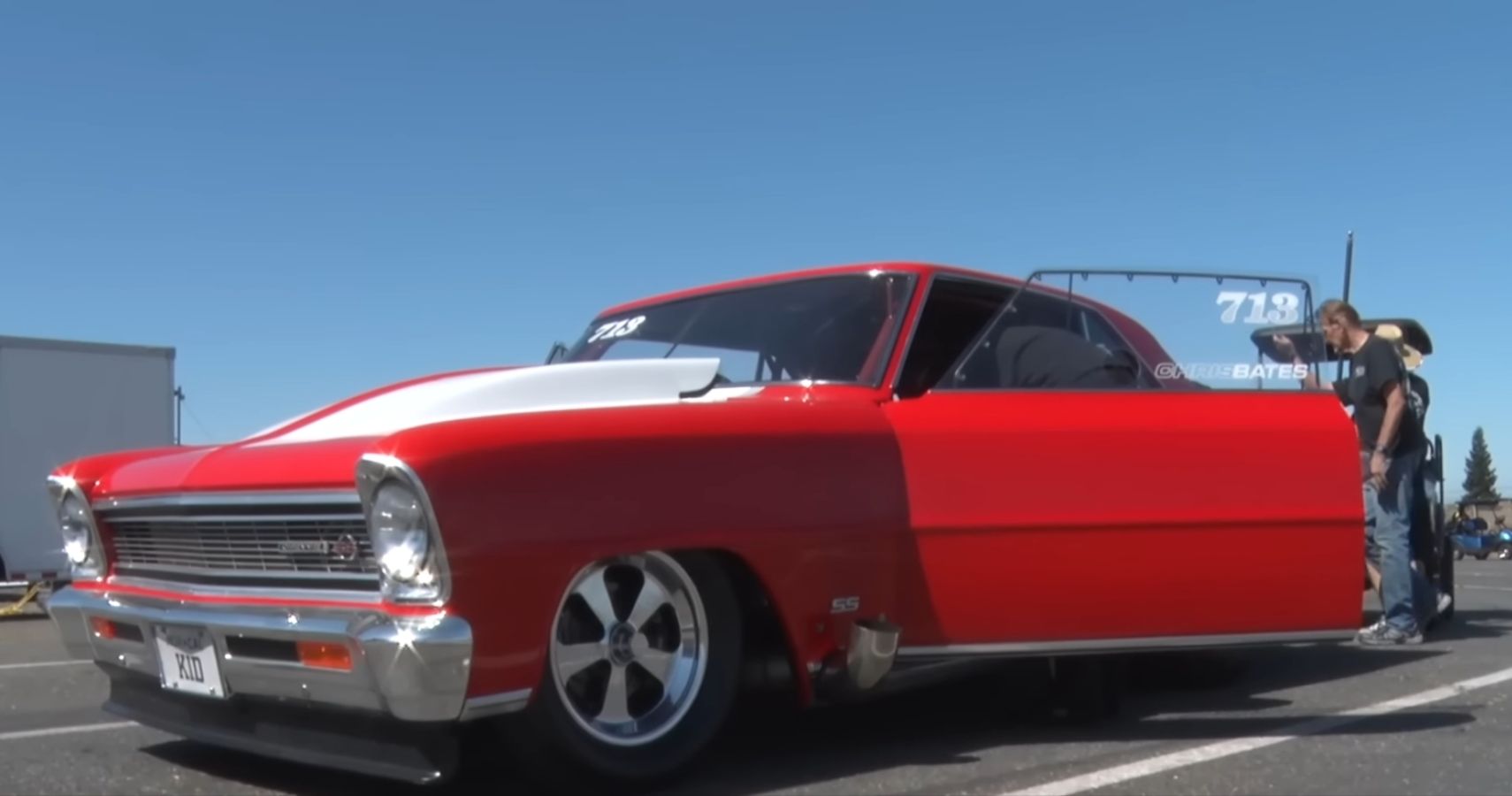 The massively powerful 1966 Chevy II built by Larry Larson makes quick work of the competition during the run in the final chapter of Boddie's No Excuses.
Drag racing seems to bring out the best when it comes to modified cars. There are of course plenty of high-performance cars that can get out and perform on the drag strip, completely stock. With that in mind, nothing beats a modified monster. YouTube channel 1320video has done a great job showcasing epic cars and this video is no exception. We take a look at a Larry Larson Chevy II, an extremely impressive car with a lot of speed.
Getting to know the Chevy II
The 1320video team meets Chris Bates who is the driver of this particular Chevrolet Larson. The car's owner cannot drive it, so Bates was assigned to do so. He did it for a year and a half. This is a 1966 Chevy II and it's a bit of an evolution of a previous Chevy II that Larson worked on with a few updates over the previous model. Under the hood, there's a 590ci big-block Chevy engine, built by Hurricane Racing Engines. It has a twin 94 turbo configuration and in terms of power, it develops around 2,800 hp.
RELATED: The Old Feud Continues With This Ford Mustang GT & Chevrolet Camaro ZL1 Drag Race
Drive the Monster Chevy II
Larry Larson's Chevys have a lot of power but they are also very fun cars to drive. Bates says this car takes care of him, which makes him feel safe enough to take him places other cars might not want to go. The car is racing in the fat tire class and Bates is hoping to take the class win. He says the car makes you feel arrogant because it will win races for you. It's such a clean and impressive build. As evidenced by drag racing footage, it's also incredibly fast.
RELATED: Watch These 5 5-Cylinder Audi Icons Battle It Out In Drag And Roll Races
The Monster Chevy on the drag strip
The Chevy II then heads to the drag strip. We finally see how fast this car is and it easily beats its first rival. Both cars spun around, but the way the Chevy II just got back to it was amazing. He easily won his next race and did it again on lap three. He unfortunately loses lap four after a bad start, but it was an impressive run from Bates in the car. It's a shame he didn't do well on the last pass, but it was still a commendable run.
Source: YouTube channel 1320video