Flashback: Rally for our heroes of the Battle of Najafgarh | Delhi News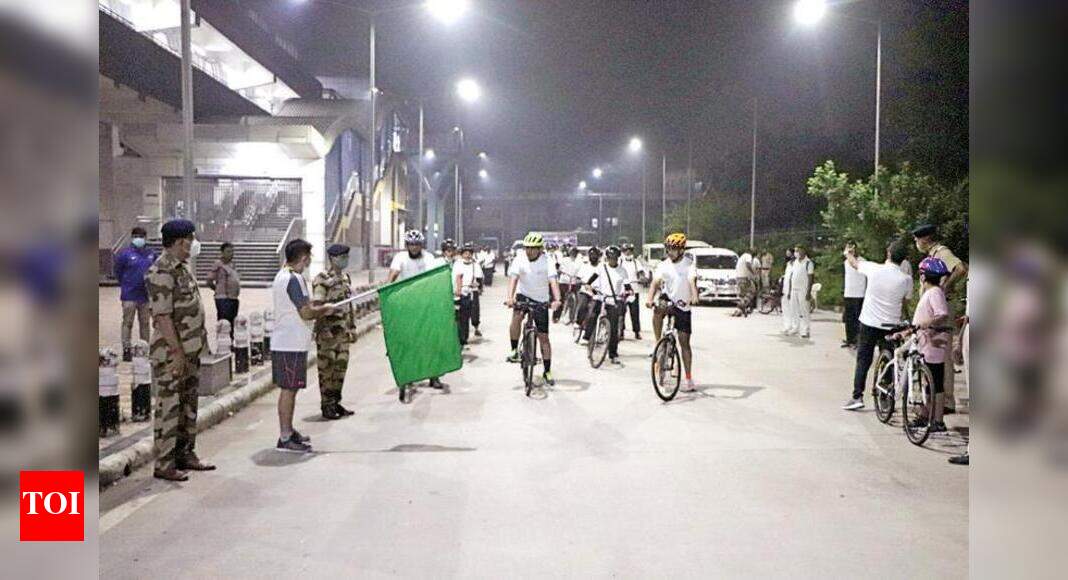 New Delhi: Passing through Delhi Gate located at Najafgarh, Delhi metro station and jheel (lake), it is hard to imagine this is the site of the Battle of Najafgarh, when Indian sepoys and soldiers British fought on August 25, 1857 during India's First War of Independence. To commemorate the battle and in remembrance of the martyrs, the Central Industrial Security Force (CISF) unit deployed with the Delhi metro on Wednesday organized a 61 km cycling rally from Raja Nahar Singh metro station in Ballabhgarh to the Najafgarh metro station.
The southernmost and westernmost stations of the rail network, Ballabhgarh and Najafgarh were then part of the kingdom of Raja Nahar Singh, a key figure in the Battle of Najafgarh. He was among those who were later sentenced to death by the British.
On that day, British forces led by Johnson Nicholson fought the combined forces of Bareilly Sepoys and Nimach Brigade, making it one of the most important positions for Indian soldiers during the Siege of Delhi. It is believed that there were over 800 casualties in the battle.
The CISF said Wednesday's rally was to honor the heroes who gave their lives in India's first war of independence. "The cyclothon was held to honor the great Raja Nahar Singh and the countless number of sepoys who fought and died in the Battle of Najafgarh," said Jitender Rana, DIG (Metro), CISF.
The cycling rally featured 62 male and 13 female cyclists, all from CISF, led by Rana and other senior officers from the DMRC security forces unit. They covered the 61 km of the rally in over three hours. The route they took passed through the historic sites of Ballabhgarh, Tughlaqabad, Siri Fort, Mehrauli, Palam, and Najafgarh.
The cyclists were signaled at Najafgarh stadium and greeted by Rakesh Dahiya, deputy magistrate of the South West district, ex-SDMC mayor Kamaljeet Sehrawat, zone president Satpal Malik and the jubilant Najafgarh residents.